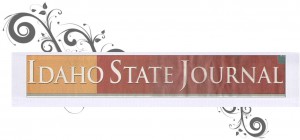 Trying out for 'Idol'
Author: Mary Keating
For:  Idaho State Journal
Date:  September 18, 2006
            923 words
Three talented, eye-catching, and self-assured siblings have captured audiences in Pocatello since they were children. Now they have caught the eye of American Idol producers.  
Julie, Stephen, and Tiffany Michaud of Pocatello joined the thousands of other hopefuls gathered at the Key Arena in Seattle on Sunday morning for a chance to hear those eight life-changing words, "You have made it to the next round."
The odds of making it to the first round are steep. A record breaking 16,000 hopefuls tried in Memphis two weeks ago and only a select number actually got an audition.
With the odds against them, the Michauds headed to Seattle's Key Arena at 5am Sunday morning. They waited as camera men panned the crowd and as production staff searched the endless lines.
The Michauds, in an attempt to get noticed, randomly sang a selection of songs together. It worked. Just 5 hours later, all three were given a colored wrist-band, a seat assignment and the chance to audition for American Idol on Tuesday, Sept. 19th at 5pm.
"I just got off the phone with them. They are exhausted, excited and ready," said their mother, Kathy Michaud. "They have been told to become familiar with the song, We Built This City."
She continued, "There were lots of comments about having three singers in the same family trying out."
It must have been significant; one major news station was definitely filming the Michauds as they were chosen. It is unclear what station, but Pocatellans may get a glimpse of the three on one of the morning shows.
American Idol rocks the ratings. Each week hundreds of screaming fans fill the seats, millions of people place voting calls and millions of American tune in to hear what Simon, Paula and Randy have to say. As the top reality show gears up for Season Six, Pocatello is one step closer to having one of their own in the showdown.
Most recently, the three Michaud siblings had roles in the Mystique Theaters rendition of Footloose.        
Julie who is 20 played Urleen in Footloose. She has also appeared in Grease as Cha Cha and in Cinderella as one of the stepsisters. Julie danced at the Sampson School of Ballet for 10 years, but her real love and life-long dream is to sing.
Like all of the Michaud children, Julie is a product of a home schooling. She has entertained the idea of attending ISU, but for now, she is excited about pursuing a career in music.
Stephen is 19 and the middle child of Michael and Kathy. He held the lead role of Ren McCormack in Footloose. He played Sunny in Grease and Prince Charming in Cinderella. Stephen developed and operates a recording studio in the home. He is presently building a collection of demo CDs which include many of his own compositions.
Stephen also enjoys his role as teacher at the Sunrise Dance Academy. He currently teaches singing, dancing and acting. Perhaps in the future, he may try for something as large as Broadway.
Stephen's inspiration came from meeting Jackie Velasquez, a female Latin Christian singer, when he was sixteen years old.
Tiffany, the youngest Michaud daughter is 16 and barely makes the age deadline for Idol. Tiffany was in the chorus in Footloose, performed in Cinderella and in various other community musicals. Like her sister, she has both dancing and singing talents.
"Perhaps my favorite singer is Michael W. Smith," said Tiffany.
All three children were members of the ISU Children's Choir and attended many ISU Music Camps. In fact, their individual lists of performances and productions are extensive.
Each possesses their own accomplishments and talents, but they all can be recognized by their dark curly hair, their huge white smiles, their bright eyes and their great love for singing and performing.
The Michauds only became Idol fans during the last season. However, they have spent hours reviewing episodes from previous years.
"I am excited!" said Stephen. "We are all excited. It should be fun."
Of course, anyone interested in being an Idol contestant secretly fears Simon and his comments ranging from "You should never sing again," to "That's the worst I've ever heard."
Last Friday, in the center of Mystique's main theater, each shared a song in a cappella. Stephen is a tenor and Julie and Tiffany are both 1st sopranos.
For them, commanding the stage comes easily. With graceful and uninhibited styles coupled with beautiful voices, it would be unlikely for Simon to say those words to any of them.
"We have chosen specific songs because they work very well with our individual voices," said Stephen. "We only get thirty seconds to demonstrate our abilities, so song selection is very important.
In her audition, Tiffany is prepared to sing, Somewhere over the Rainbow, 'Dreamin, and Everything.
For Stephen, Without You, Always Be Home, and On My Brain" rise to the top of his list of possibilities.
And for Julie, she has added to her repertoire, There is Still a Dream, Beautiful Disaster, and Diary.
Before heading to Seattle, Stephen said, "Whether we make it or not, at least we will be able to look back on this time and know we did it together."
Now, he can say, they made it to the first round together and they had a day that dreams are made of.
The Michauds may return to Pocatello as early as Thursday or as late as Saturday. Look for pictures and stories about their Seattle auditions in an upcoming edition of the Idaho State Journal.