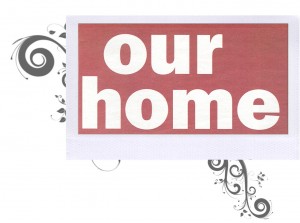 Small Spaces: Making the Most of It
Living large in a small area requires some inspiration
Author: Mary Keating
For:  Our Home Magazine
Date:  March 2005
            2187 words (including sidebars)
Living in a small space has many obstacles and challenges.  Decorating an area with limited floor space and inadequate storage is puzzling. However, with a few simple strategies, putting the decorating puzzle together can produce amazing results.
First, there are four steps that should be considered when decorating a home. Second, by using a few key decorating tricks, a small room can appear larger and more functional.
STEP 1:  Find Inspiration
Quite often, inspiration emerges out of a need to create a space that is both functional and comfortable, a need to design a space which fits the homeowner's lifestyle and personality. Sometimes, inspiration comes from an antique vase or a photo in a magazine.
STEP 2: Uncovering the Function of the Space
Every room in the home serves a specific purpose. In small homes, rooms are often multipurpose spaces. Understanding the particular function of a room is very important. 
One must determining if a room will be a private or an active space, a place for work or for rest, whether it will have a little or a lot of activity or traffic.  Knowing how a room functions will influence everything from fabric choice to furniture style and lighting. 
"Simply observing people and animals, how they sit, snuggle, move, interact and behave in a room can influence the design," says Kari Tufte, Interior Designer, Pocatello.
STEP 3: Determining the Rooms Personality
Each room has distinct characteristics. Older bathrooms may have pink fixtures and dated tiles. A living room may have a large fireplace or exposed wooden beams. A family room may have dark oak window frames or arched openings. Coordinating design elements with the room's personality is helpful to achieve an overall look.
Graphing the room and the various elements such as outlets and windows can aid in furniture placement.
STEP 4: Deciding on a Theme
After carefully observing the space, its function and its personality, consider picking a general theme or look. The theme can be almost anything – upscale urban, traditional, shabby chic, country, Tuscan, shaker, Victorian or art deco.
"Don't be afraid to use your imagination to make the space fun and comfortable," says Tufte.
When deciding on a general theme or feel to a room, "make certain it is really what you are comfortable living with," says Sue Welsh, W Design, Pocatello. "Something you would be willing to live with over a period of time."
Once the general theme has been determined, empty out the contents of a room. Carefully review each piece.  Before tossing an item away, consider whether or not it can be cleaned up reupholstered, stripped and repainted, or perhaps given a fresh new look or appeal that will fit with the space and the general theme. Consider whether it can be relocated to another room or area in the home, says Tufte.
KEY ELEMENTS
Small spaces require a few creative key elements to help to room look larger and allow for a more efficient use of space.
Lighting
Lighting has the magical ability to influence the mood of a home and to enhance A room. Lighting serves an important array of purposes that vary from room to room and moment to moment.
"Lighting is really one of the most important things in a room," says Elaine Fowler, Tuma Interiors, Pocatello.  "Overhead lighting really doesn't do anything to enhance a room's qualities."
There are really three main elements to lighting: fixture, function and quality. The fixture design should really coordinate and enhance the theme of a room. 
Will the light serve the correct function?  If the light is for reading, does it give off enough light?  If the light is for relaxing, is the light emanating from the fixture soft enough?
If the room houses both a TV and a computer, task lighting in the computer area and soft lighting in the TV area allows the space to be used by more than one person at a time.
Color
"Paint is the most inexpensive and easiest way to change the look and feel of a room," says Tufte.  "Color has the power to make your room warmer, softer, cooler, cozier, even happier."
The urban legend of color making a small room look smaller is based on just a tiny bit of fact that has been taken to the extreme.  Color is one of the best ways to anchor a room and define it.
"Don't be afraid of color. Try it, you'll like it," says Tufte. "It is wonderful even in a small space."
Furniture Scale and Placement and Function 
Sofas and chairs are the most important functional pieces in most of our living spaces.  Consider size, shape and the way the pieces will be placed in the room.
As a general rule, it is best to avoid furnishing a small space with a bulky piece.  When selecting furniture for a small space, choose smaller pieces that have a more open design Look for chairs and sofas that are big on comfort but with lower backs, open arms, and curvy shapes.  Chairs with open arms and glass-topped tables that allow the eye to see through offer function and style without adding visual weight.
Additionally, when arranging furniture, be aware of traffic patterns. Traffic should flow uninterrupted through the room.
Arrange furniture into activity areas.  For example, the living room may contain a TV corner, a reading corner and computer area, albeit small areas, but with specific purposes and task oriented lighting.
Whenever possible, arrange furnishings to open up areas on the floor and avoid blocking views to windows and doors. 
Fabrics
Too large a pattern can visually close a room. Larger patterns should be limited to pillows and smaller accessories rather than a sofa or love seat.
Window Treatments
Look for filmy, gauzy fabrics for window treatments.  These lighter than air fabrics let in natural light while adding softness and personality to a space.
"Heavy window treatments can close in on you," says Tufte. "Light and airy curtains allow for privacy and allow the use of natural light to open up the room."
Manage the Clutter
This is a must in small spaces! Clutter visually fills up the space. Look for pieces that contain clutter, such as a small armoire that will house a television, VCR, books and audio equipment.
 Go for double duty.  It is helpful if some pieces can multitask, or can perform different duties when needed.  For example, a coffee table with shelves underneath can also be a library of books and magazines.  A sofa can conceal a guest bed, and a trunk can double as an accent table and blanket storage.  An ottoman can be used as a coffee table, or, as extra seating for storage. Think about using a fold out desk or table, end tables with storage or even nesting tables.
Remember, the farther you can see into, and through, a space, the larger and more open it will seem. 
In smaller spaces, it is vital to have a place for everything and everything in its place.
Accessories and Accents
"Less is often more," says Tufte. "Use a few large accessories, over many small objects.  You will get a much greater effect and less clutter."
If you have a collection or two, think about rotating a few favorite accessories during the year.
Add Reflective Elements
Mirrors and reflective accessories help create the illusion of more space. Mirrors are wonderful space enhancer, says Tufte.
The Adage
Tips: Keep it simple and clean.  If you don't need it, throw it out.  Overcrowded or over-decorated areas shrink space, so simplify the décor.  Most of all, have fun with the spaces you live in.
Sidebar
Shabby Chic
Shabby Chic embodies the appreciation for the past, present and future.  In layman's terms, it is taking old, good quality furniture either passed down to you or found at a local flea market and fixing it up, giving it new life and character.
The zeal of Shabby Chic evolved as a practical answer to how the average family lives.  It is a style that is simple and practical with a casual everyday kind of ease.
"Though some may find the phrase 'shabby chic' –the idea that something 'shabby' (faded and dilapidated) can be considered 'chic' (elegant and stylish) – paradoxical, the two elements go hand in hand," writes Rachel Ashwell, author of Shabby Chic.  "The cozy familiarity of a well-worn pair of faded blue jeans versus the starched stiffness of a new pair is the appeal of Shabby Chic."
Beyond just appeal, Shabby Chic is like antiques without the price.  Some of the hallmarks of shabby chic are old faded patchwork quilts, old ivory lace curtains, and overstuffed chintz armchairs.  Shabby Chic is comfortable.  It's inviting.  It's a style where one doesn't have to worry about shoes on the coffee table.
Shabby Chic is know for the soft, palatable tones such as seafoam green, dusty rose, pale blues, ivories and creams that appear to be aged.
It is a style that suggests things that are inherited rather than mass produced.  "It is a style that is versatile and boundary free," writes Ashwell.
Although Ashwell offers many helpful hints in her book, it is not suggested to be a manual, but rather a journey detailing the various ways in which a person can achieve their own version of Shabby Chic.  For her, the key lies in weeding out the unnecessary, trusting instincts about what is comfortable and practical, noticing the details, experimenting with new and complementary combinations of colors and fabrics, and seeing imperfection and age with a new appreciation for the unique contribution and beauty.
End Sidebar
Sidebar
The Effects of Color
Color is a powerful way of communication. What type of room would you like: bright, soft, warm or neutral? When choosing colors bear in mind how color can influence your room.
WHITE:
The most basic color symbolizes innocence and purity. White reflects light. White is a popular color in decorating and in fashion because of its neutrality and ability to "go with everything." White will always make a room appear larger.
BLACK:
Black is the color of authority and power. It is popular in fashion because it tricks the eye and makes people appear thinner. Further, it is stylish and timeless. Black if often found in an accent piece to help ground a room.
RED:
Red is one of the most emotionally stimulating colors. It is the color of love. It can cause a faster heartbeat and faster breathing. In decorating, red is most often used as an accent. Decorators say that red furniture should be perfect as it will attract attention. Red is stimulating, exciting and good for rooms with northern exposures.
PINK:
Certainly the most romantic, pink, is more calming. Sports teams sometimes paint the locker rooms of the opposing team's bright pink in an effort to make their opponents lose energy.
BLUE:
One of the most popular colors and is used to bring the sky and the ocean feel into decorating. It causes the opposite reaction as red. Blue stimulates the calming chemicals in the body. Perhaps that is the reason many bedrooms are painted blue. However, many blues can be cold and gloomy. Good from rooms with a southern exposure
GREEN:
It is presently the most popular decorating color. Green symbolizes nature and is the easiest color on the eyes. It can calms, refreshes and relaxes people. Green is a cool color and compliments most colors.
YELLOW:
A cheerful sunny yellow is an attention grabber. While often considered an optimistic color, people lose their tempers more often in yellow rooms and babies are none to cry more. It is the most difficult color for the eye to take in, so it can be overpowering if overused. It has the effect of bolstering concentration and symbolizes the power of thought, hence yellow sticky notes and legal pads. Yellow is one of the most popular colors in kitchens and works well in rooms with a northern exposure.
PURPLE:
It is the color of royalty and riches. It connotes luxury, wealth and sophistication. It also has feminine romantic quality. However, because it is rare in nature, it can appear artificial.
BROWN:
Solid, reliable and the color of earth, brown is abundant in nature. Men like the color brown because of its masculine qualities.
Information compiled from: Kari Tufte, Shabby Chic, Rachel Ashwell; www.colormatters.com
End Sidebar
Begin Sidebar
Quick References
Books:
Decorating Small Spaces (Better Homes and Gardens) by Better Homes and Gardens Books
Small Spaces: Stylish Ideas for Making More of Less in the Home by Azby Brown
Smallspaces: Making the Most of the Space You Have by Rebecca Tanqueray
Living Large in Small Spaces: Expressing Personal Style in 100 to 1000 Square Feet by Marisa Bartolucci
Compact Living by Jane Graining
Small Apartments by Alejandro Bahamon
You Can Do It! Small Spaces: Decorating to Make Every Inch Count by Christopher Lowell
Websites:
ww4.bhg.com – features arrange-a-room and color-a-room worksheets
Interior Decorators in Pocatello
Countryside Interiors 232-7989
Fragments, 478-4811
Kari Tufte, Interior Designer, 223-5653
Elaine Tuma, Tuma Interiors, 232-7565
Sue Welsh, W Designs, 237-3210
End Sidebar