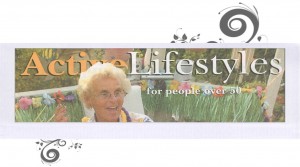 Finding a Healthy Balance
 Author: Mary Keating
For:  Active Lifestyles Magazine
Date: February 2007
            1115 words (including sidebar stories
Moving and singing to the beat of Y.M.C.A, bouncing a ball back and forth, and having fun, eleven older adults ranging in age from 50 to 85 are getting their bodies in shape by attending a Fit and Fall Proof class offered by Excel Weight Loss Solutions.
"I have been struggling with balance and strength," said Paul Villano, the newest member of the class.
While peeking in the door one morning to see what the class was all about, Villano smiles and admits "he was grabbed out of the hallway and invited to give it a try." He was hooked and believes the class to be "very worthwhile."
Physical fitness is to the human body what fine-tuning is to an engine. Tightening belts, rotating tires and checking the electrical system is similar to firming muscles, moving joints and regular physical exams.
It is well documented that people who have difficulty doing daily tasks, as well as people who are physically fit, can benefit from regular physical activity.
"The older you get, the more you want to sit," said Robert Lee Jones. "You see, I have retired twice, but I don't like to sit, so I keep going to make sure everything will continue to move."
Jones has been a class regular for two years. "I feel really good, it has helped a lot."
Regular physical exercise may help slow the aging process by preventing or reducing the chance of disease and disability in older adults. It also helps to reduce the risk of injury due to a fall.
Each year, hospitals see over 300,000 patients for broken hips due to falling. Each year in Idaho, ambulances respond to 6,000 calls for falls. It is estimated that more than one-third of individuals over the age of 65 fall at least once a year and the rate increases with age.
"I have fallen a number of times," said Maureen Gibson. "I have fallen down a cement stair backward and I fell in my granddaughter's driveway."
Gibson has been working on her balance and her strength and is happy to say she has not fallen in over a year.
"Muscle strength and flexibility play a primary role in balance," said Karen Donaldson, owner of Excel Weight Loss in Pocatello. Donaldson is a registered dietitian and American Council on Exercise certified personal trainer with extensive background in exercises for seniors and special populations such as those with arthritis, fibromyalgia, and joint problems. "Strength training has incredible benefits for everyone, but especially for seniors. A physical activity program that challenges the visual and vestibular system can help a person learn to compensate or retrain the senses which affect balance."
Although aging certainly plays a role in balance and muscle loss, there are a number of medical conditions which can also affect the sensory system and musculoskeletal structure. Conditions such as arthritis, diabetes, osteoporosis as well as some medications can disrupt a person's balance. These conditions also promote a less active lifestyle.
What gets people active? It might be a medical condition, a fear of falling, or a desire to maintain independence. It might be a desire to enhance the quality of life or some other motivating factor. Whatever form motivation takes, the benefits of physical activity are life-long.
"My kids and my grandkids help my stay motivated," said Vera Gunter. "I generally feel stronger since I began exercising."
Strength training is effective for helping older adults gain strength, balance and bone density. No matter how old or young you are, exercise can improve your quality of life and you don't have to spend a lot of time doing it to see and feel great improvements.
"I come to help me lose weight," said Mary Blount. "I have been coming since the first of Sept. It has helped me control my weight and my joints no longer ache."
Muscle strength transfers into maintaining weight, increasing vitality, being able to life and hug a grandchild, getting out of a chair with ease, or climbing the stairs without puffing.
"Coming here has helped me breath better," said Lois Stuban. "No way am I going to the couch and staying there."
As each person ages, the risk of developing heart disease, diabetes or osteoporosis increases.
"Diabetes is increasing at an alarming rate," said Donaldson. "Exercise promotes insulin sensitivity allowing the glucose in our bodies to be transported into the cells more readily. This, of course, helps blood glucose levels to decrease and the body requires less insulin."
Donaldson has people everyday ask, what is the best form of exercise?
"The best type of exercise to do is the one that you will do," said Donaldson. She also wants to help the middle aged golfers who are looking forward to dragging around the clubs this spring to prevent injuries. Excel is forming an exercise class to help golfers get ready for the spring season with emphasis on strength training, posture and balance.
Being fit involves the performance of the heart, lungs and muscles. And what we do with our bodies also affects our minds. Physical fitness influences mental functioning and emotional stability. Fitness is a condition that helps us look, feel and do our best. Most importantly, it is a major basis for good health and well-being.
SIDEBAR
Senior Fitness Guide
The Idaho Department of Health and Welfare Injury Prevention Program, in conjunction with district health departments, provide the Fit and Fall Proof program for older adults who want to improve their health and reduce the risk of falling. This program also certifies trainers. Here are certified Fit and Fall Proof classes in your area:
Pocatello: EXCEL, Tuesday & Thursday, 11:15 a.m., Monday & Wednesday, 5:45 p.m. 233-0593
Preston: contact Laura Sant, U of I Extension, at 852-1097 or Rachelle Oliverson, FCMC, 852-4122 for dates and times
Fort Hall: Tuesday & Thursday, 11:00 a.m. Elderly Nutrition Center, Contact Ann Lindroth, 238-5435
Blackfoot: Blackfoot Senior Center, Tuesday & Thursday, 9:00 a.m., contact Erma Clarke, 785-4714
Malad: Malad Senior Center, Wednesday & Friday, 1:00 p.m., contact Margaret Barker, 766-2260
Soda Springs: Soda Springs Senior Center, Wednesday & Friday, 11:00 a.m., contact Rhonda Schaeffer 547-3007
For more information on the fit and fall proof program, contact Cherie Nelson at the Southeastern Idaho District Health Department at 234-7169.
For other exercise classes, contact Fitness Inc., Curves, your local Senior Center or Community Rec Center.
The Southeastern District Health Department offers a "Fun Exercise for Seniors Manual." The Manual can be found at http://www.sdhdidaho.org/hpro/injury_prev.html. The link for the brochure can be found near the end of the page. The manual offers suggested exercises to build strength and flexibility. Muscle strength and flexibility play a primary role in balance and maintaining physical activity.