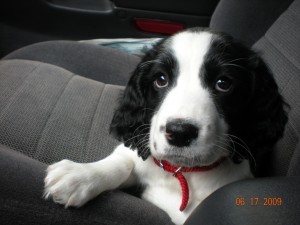 Dog Daze and Puppy Tails
Author: Mary Keating
For:  Family Living Magazine
Date:  July 2010
            1009 words
It is 5:12 a.m. It is raining. My bathrobe is wicking water from the grass; my toes are shivering in mismatched flip-flops. I patiently wait. I yawn as I think about the previous 86 hours. Toilet paper flying through the house, small toothpick sized bark chips haphazardly strewn across the carpet, rolling tennis balls, darting slippers and plenty of strange squeals and screeches.
As of three and a half days ago, it is clear that our house will never again be the same. I am not referring to the double mattress placed in front of the sofa on the main floor near the sliding glass door to the fenced backyard, the absence of decorator pillows, the fact that our two daughters have moved to the main floor to sleep or even that the dwarf black bunny who unexpectedly lost a few of his tail feathers. Since the arrival of a seven pound fluffy, four-legged creature with more enthusiasm than coordination and bigger shoes to fill than bladder capacity, it is clear that the dynamics of our house have permanently shifted.
Gabriella, a nine-week old English springer spaniel sprung into our hearts and our home this summer and brought with her sleepless nights and potty mishaps. And, to be frank, she has enough energy for each and every syllable in her name.
It was not like we had a void in the house. When Gabby arrived, I was overwhelmed by a very ailing 12 year old golden-retriever, a used dwarf black bunny rabbit that I have yet to claim by immersion in a bath, two lively and scheduled daughters, an overzealous gardening plan, a cabin in the mountains, and plenty of author inspiration. And while it is true that I claim to be shocked by the new addition and that I tried in earnest to hold out for puppy-love until the golden passed, I am her pack leader and biggest fan.
Fortunately, I did not walk into puppyville with closed eyes. My husband and I have been down a similar path before. Granted, this time we travel with a cautiously optimistic six-year-old and a very happy enthusiastic nine-year old. Both had an idealistic vision of puppies.
What I have ascertained recently is that there are two visions of puppyville.  The first is the one staged by magazine executives, creative ad departments, calendar editors and talented script writers.
Go ahead, flip open a magazine, scan the calendar aisle or hit a Disney movie. There they are – images of well mannered puppies resting calmly and quietly on the latest dog bed, roping through fields of poppies and saving the universe as four-legged spies. To be honest, both my girls had just this vision of a puppy. And, it is wildly different than reality.
The second is the reality of true puppy ownership. Shoe stealing, laundry swiping, garden digging, furniture lounging, houseplant terrorizing, clothes tearing, kid chasing, and settee chewing darlings that require tedious amount of time, purposeful training and endless exercise. They also require 24/7 supervision. It is abundantly clear that our little Gabby only partially resembles the trained puppies of snapshots and glossy covers.
Remove the slick glossy paper and what you have is a puppy that needs to go to the veterinary clinic for shots and spaying, leaves piles of poop, has an occasional accident in the house and is now responsible for tooth marks on the furniture. And, I cannot forget to mention the 8 p.m. colic hour – the time of night when our own little darling gets the nickname, Gabriculla.  Her little vampire teeth come out and she races around the house, banks the furniture. Her eyes are wild and her tail is a blur.  In a moment of great wisdom, I think I have figured out that a long walk and a bit of crate sleeping halts her little vampire tendencies.
Let's drive the photo versus reality point home. Three is an adorable logo of the little Cottonelle puppy grabbing a little girl's shorts.  Now add the running and the screaming to the photo and an entirely different image emerges. The moment can be frantic and quite loud and frankly there is not twinkle in the child's eye and the cute side smile when the puppy not only gets a hold of the shorts but the flesh underneath.
Now don't get me wrong, there is a treasure trove of wonderful things about a real puppy that cannot be captured in a photo. They have that sweetened-condensed milk breath, a glorious ability to tumble over into a sudden death like slumber and an uncanny way of winding their way into our hearts. I would rather have one real puppy than a hundred photos. But I knew what I was getting into when I loaded her up and brought her home.
My family needed a dog with super absorbent fur, a relentless ability to love each family member unconditionally, a uncanny way of listen without judgment or interruption, and sturdy enough to do what we do and go where we go.  As for the fur, I feel part of a dog's job is to be held and cried upon in those moments when life surpasses our ability to handle heartbreak. With two daughters, heartbreak is inevitable. I will always love my girls, but I realize there are times when I might like them less. It is those moments where Gabby's love and companionship is worth every tooth mark on the furniture.  We also needed a friend who would love them even when they did dumb things and upset the parent cart. As for size and temperament, I researched and studied different breeds before settling on a springer spaniel. Gabby had to be sturdy without being enormous. She had to be cute without being a lapdog and she has to hike, camp and swim and watch TV with the whole family.
Although life has changed and will continue to change we love our newest family member. And there will be plenty of glossy photos taken of her through the years.