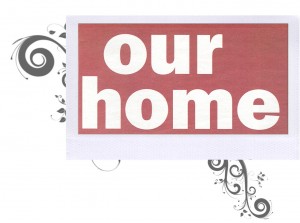 Creating Christmas Magic
'Tis the Season to Decorate
Author: Mary Keating
For:  Our Home Magazine
Date:  December 2005
            1580 words (including sidebars)
Dana Smith's home resonates with magic. Peering out the front window is a well-lit tree.  Inside, an oval mirror is artistically draped with greenery and mini-lights. A gold candelabra blooms with raspberry candles.
Inviting guests into the great room are three large ivory candles perched on plump raspberry candle holders each embellished with rich gold bows. Wisps of greenery lay purposefully on the entry table beckoning guest to pass through the arched greenery swag adorned with raspberry fabric and gold ribbon.
As guest pass from the foyer into the main part of the home, a traditional waist high white Santa stands attention on the left of the arch and carefully stacked boxes lit with mini lights rise up on the right.
The warmth of the fire and the scent of hot cocoa add to the enchantment.
Christmas is a time for magic.  It is a time to inspire memories and wonderment. Decorations should reflect the sparkle of the season, the color of dreams and the joy in the heart.
But for many, reality is a bit more like the stockings are hung by the chimney with a bit of care and that oversized tree, well, let's say it did not just appear there.  Holiday decorating is often just another 'to do' on the growing list. And not just on the list, but a point of stress.
Becci Harrell and Marilyn Jones, decorating consultants and co-owners of Oh… It's Divine, like little elves, are hired by business and individuals to inspire and create rich holiday displays.
"Holidays can be very stressful, especially for women," said Harrell.  "There is a tremendous pressure to please everyone on the gift-giving list, bake like Julia Childs, sled to each and every school and extra-curricular activity, juggle family and friends and prepare a home like Martha."
Decorating should not be another stress point.
"With a bit of advice, a dash of creativity, a spoon full of fun and a general theme, people can bring the light and the spirit of the season into their homes and businesses," says Jones.
Harrell and Jones share their creative tips, secrets and laughter all while climbing ladders, twisting ribbon, adding lights and hanging garland.
Eliminate the Unnecessary and Unloved.
These women are very candid when they offered the first piece of advice
"When pulling out the holiday boxes, the first step is to weed out the clutter and things you don't absolutely love," said Harrell.
Year after year, box after box, old faded tinsel, broken lights, and unused tins and ornaments need to be tended.
"It feels great to get rid of and replace," says Dana Smith, homeowner. "It isn't easy to sort through years and years of clutter and toss things, but your house and local charities will thank you."
Organize.
Secondly, take an extra moment now to organize items for the future. 
"Once everything has been weeded out, it is important to categorize, organize and plan ahead," says Harrell. "When boxes are labeled by either a theme or an area, it is easier to pull out just those boxes and get set decorating."
When Harrell has an hour, it is easy to pull out the box labeled mantel and do one area at a time. Doing things in an orderly manner creates less mess, reduces stress and brings out the best in the home.
If snowmen were the general them in '05 and an old fashioned cabin theme is planned for '06, it is much easier to begin if boxes are clearly marked and maintained.
Gather and Add.
If budgets are tight and decorations are light, try to add one area or one special thing each year. 
"You don't have to have a masterpiece all at once," says Harrell. "It is often easier to add a section every year rather than just buying clutter and unwanted items. Take the time to shop local sales and gather items that will work for years, items that you will enjoy using year after year."
Theme
To achieve a unified look and a well organized display, it is important to stick with a theme.  The theme can be as simple as just dark green and raspberry or as elaborate as the Angelic romantic theme in the Smith home. It might be trendy turquoise and hot pink or as traditional as snowmen or nutcrackers. Consider a fun-filled children's theme or a sophisticated icy white. Perhaps old world antiques or a cabin in the woods scheme works.
"Stick to a couple of basic colors and a general theme for all holiday decor," said Jones. "Basically, a theme is used as a thread to anchor the decorations and dispel the look of confusion and clutter."
Step Outside of the Box
Look around the home for resources to use with a certain color scheme or theme.
"Pretty dishes, crystal vases, statures and art can all be incorporated into holiday decorating," said Harrell. "Simply elevate a festive glass bowl using a sturdy box, drape it with lush fabric and ribbon, add a floating candle or two, a couple of sprigs of greenery and voila, a stunning centerpiece."
Draw on reflective surfaces such as mirrors, silver and crystal for dramatic effects. 
"There are so many beautiful and loved pieces in homes that can be highlighted and given special attention during the holidays," said Harrell. "Use a special tablecloth, pull in a family portrait, add some ribbon and greenery. Grab the bedside table from the guest room to create an entry display. Play with ideas and items."
If the home is used for entertaining clients and friends during the holidays, it is very important to step out of the box and be creative when decorating with children.  It might not be the right atmosphere if the tree is strung with popcorn garlands, craft paper ornaments hanging serendipitously from the branches.
"If the theme is more elegant or sophisticated, try something fun and purchase cheap little trees that children can decorate themselves," said Harrell.  "Consider letting the children house the trees in their bedrooms."
Add Drama
 "To add drama, use fabric and ribbon to both soften a display and to pull together wreaths and swags," said Harrell. "Rich fabric and color create a dramatic effect."
In the Smith home, sheer rich raspberry fabric has been woven into the swag over the arch and into the wreaths. Textured gold ribbon adds an additional layer of color and softness to the displays.
Don't be afraid to amplify the simple. Use texture, color, layers, height and focal points to create dramatic effects.  The results can be magical.
Have Fun
"In the end, if fun is part of decorating, the finished project will have a sense of life and balance," said Jones.
And, if the 'decorating to dos' keeps moving down on the list and the stress level continues to elevate, Oh… It's Divine is ready to help you with your decorating needs almost anytime.  They can be reached at 317-6339 Becci or 604-1308 Marilyn.
Sidebar 1
Oh Christmas Tree…
There is something very delightful about lighting a Christmas tree. First the lights are dimmed, soft Christmas music wafts in background and children rest in awe by the tree anxiously awaiting that first twinkle. The soft glow and dancing lights call to mind many memories.
The Christmas tree is truly the centerpiece of the holidays. So, you've chosen your perfect Christmas tree, now what?
The following tips will share ideas for setting up the perfect tree, lighting it, keeping it fresh and decorating it.
Keep Your Tree Fresh and Green First, cut the stump of the tree and set it in water immediately. A fresh-cut tree will drink several quarts of water. So it's important to check and refill the water level several times a day for the first week. Make sure to place you Christmas tree in a stand that has a large water reservoir and keep it filled.
Christmas Tree Preservative You can prolong the life of your Christmas tree by mixing up 1 quart water, 1/2 cup light corn syrup, and 1 teaspoon liquid bleach.
Putting on the Lights and Decorating When decorating your Christmas tree, put lights on first, then garlands, then the ornaments.
Work From the Inside Out Start arranging Christmas tree lights on the branches near the base of the tree.  Start at the inside of the branch and carefully weave lights back and forth through the branches.  Pull the string of lights underneath and start on the next branch.  Harrell and Jones recommend using plenty of lights to get a dramatic effect.
Placement of Ornaments Don't hang all your ornament on the tips of the branches. Place ornaments and other decorations 'inside' your tree to add depth and interest.
Artificial Trees It is often fun to experiment with an artificial tree. Harrell suggests placing every other set of branches on the tree creating more open spaces.  Fill the spaces with fabric, tulle, ribbon or large ornaments.
Consider Size  
The upside down tree has created a stir this holiday season. By turning the tree upside down, more open space is created at the base for presents and larger trees can 'fit' in smaller spaces.  Certainly, the turning of the tree is a good option for many people living in smaller apartments and homes.  Most importantly, when choosing a tree, consider the space available. Use smaller more upright trees in crammed areas, tall trees for high ceilings and thin standard sized trees for average spaces.